Fish Thank You Cards Activity
A big part of The Fish Philosophy is helping people become "Day Makers." This doesn't have to be a big deal. You start by being on the lookout for people who could use a little cheering up.
One way to achieve this in the workplace is to value and appreciate each other. If you are looking to transform the culture at work, start to catch people being fishy and then give them instant recognition. That is exactly what our Fish Thank You cards are designed to help you do.
As a follow-up to your completion of the FISH! Online course one of the initiatives we would like to support you with is valuing and appreciating your team and each other. We have created Custom Branded FISH! Thank you cards that you can use to Make Peoples' Days.
When you are on the lookout for people to Thank/Reward look for people that are making a positive difference, someone who encourages or inspires others, someone who is kind, helpful, supportive, etc. You will notice that your Care cards are customised with your organisation's values on the front and the four FISH! Practices on the back.
Some guidelines to consider when writing your short note on the back to support your Thank You:
What did they do?

How did they do it?

Who were they being when they did it?

How did it make someone feel?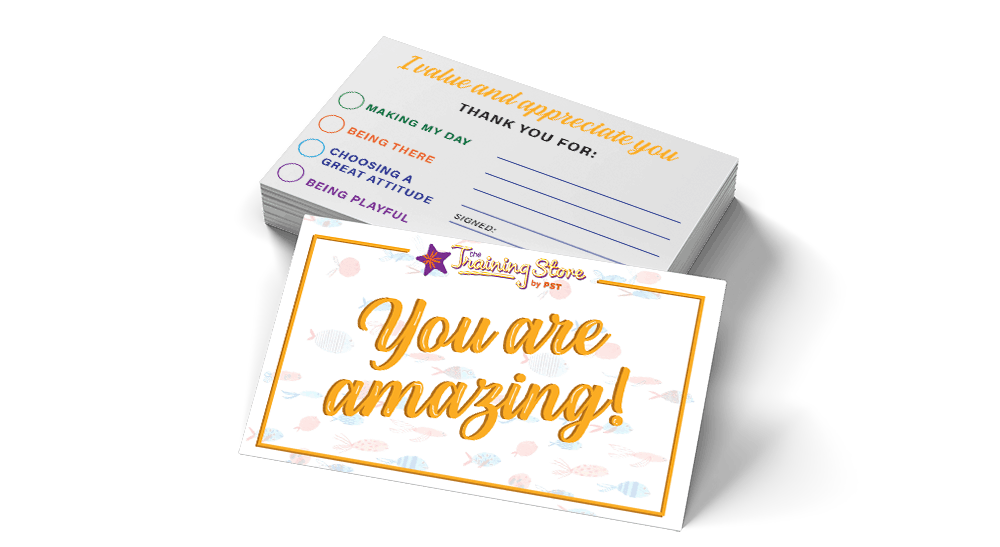 Set yourself an achievable goal of one FISH thank you per day, or if you have a day a week that you would like to dedicate to thanking people instead GO FOR IT! We like Thankful Thursday.
It is about creating a new habit and as research shows us it takes 21 days to create a habit so practise this Make Their Day activity for 21 days in a row. You can even bring this practice home with you.
We suggest you go out and buy some blank Thank you cards. We often find them at the discount stores or newsagents in packs of ten. Have fun becoming an avid Day Maker. Let us know how you go with your Thank You's. You can have fun with this and make it your own. We like to ring a bell each time we throw a Fish to recognise someone for being FISH-Tastic at their job.
Let's work together to see how many FISH! Thank You's you can share in the coming months. Happy Fishing!
Basic cards are FREE to download and print yourself. Or order customised/branded Thank You cards. We'll print & deliver them to you.
Download your FREE FISH! Thank You Cards
Fill in the form to download the FISH! Thank You Cards.
Custom Fish Thank You Cards
We would love to tailour our Thank You Cards for you! We will brand with your logo, organisation's values, colour scheme, design elements, and more!
We understand you are busy so let us print your tailored cards on quality card stock, provide a handy little holder for your desk and have them delivered directly to your door. Then all you have to worry about is creating happiness and making people days.
ONLY $145 / 250QTY